Winter Flowers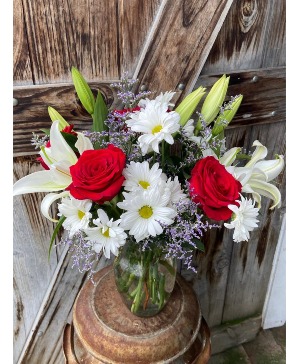 Warmest Wishes
Vase Arrangement
'Tis the season for remembering friends and family with warm thoughts and wishes. Sending Mount Williams' beautiful mix of roses, lilies and daisies in red and white is the perfect way to let them know that you're thinking of them, and wishing them all the best. * 10"w x 16"h and intended to be viewed from all sides
More Info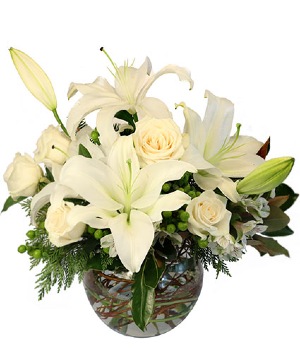 Frosty Blooms
Flower Arrangement
These heavenly blooms are unforgettable! Featuring radiant white magnolias, pretty white oriental lilies, angelic white roses, stylish white alstroemeria, and enticing green hypericum, Frosty Blooms is an effortless winter beauty. Pure and poetic, this flawless bouquet will bring the winter spirit to any home!
More Info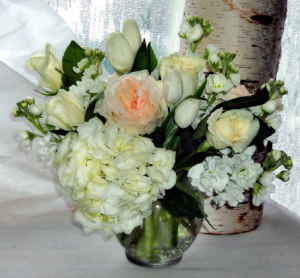 Pure Perfection
vase arrangement
Fresh and fragrant, this clear bubble bowl is filled with a lush mix of cut flowers rich in texture and shades of peach and white. Hydrangea, Roses, tulips (when in season) and Stock are combined in a full, tight arrangement resulting in a beautiful display.* This arrangement is designed to be viewed from all sides approx: 10"h x 12" w
More Info
The chill maybe in the air, but MOUNT WILLIAMS GREENHOUSES INC creates a cool elegance with winter flower arrangements. Chase away the winter blues with a selection of fresh flower arrangements to adorn your home. Celebrate the beauty of fresh fallen snow with glacier-white colored flowers, intertwined with a platinum ribbon exquisitely arranged in a vase. If you love the nighttime winter sky, bring a little star gazing to your office with an amazing 'Star Gazer' lily flower arrangement. A breathtaking display of winter beauty is found in the frosty air, moist snowflakes and billowy clouds of the season. With each floral bouquet, MOUNT WILLIAMS GREENHOUSES INC creates a mesmerizing winter wonderland.
*At Mount Williams, we take great care to ensure that we fill your order as requested. Sometimes however, flowers are out of season or otherwise unavailable, in these cases we will make substitutions to fill your order as closely as possible and to full value.